Dolan Dodge RAM night at the Rodeo was an incredibly special evening for the Dolan Family and Dolan Auto Group as we celebrated our first year as the official sponsors of the Reno Rodeo. We are honored and excited to carry on the many years of tradition, culture, and community that marks the values of the Reno Rodeo. For Team Dolan Dodge RAM Night was more than just an evening at the Rodeo, but a moment where years of hard work paid off for the Dolan Auto Group.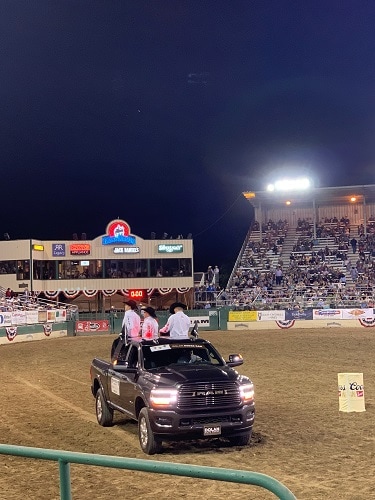 There were several memorable and fun moments of the night! During the opening ceremony, the Dolan Auto Group and Dolan Dodge flag were presented for the first time by the Reno Rodeo Flag Team! Then later in the evening, Tom's grandson, Knox Dolan competed in the Mutton Bustin' event! Next up, all of Dolan Auto Group had a chance to get involved in the fun during the Businessmen Steer Decorating event. We had teams representing us from the Dodge, Lexus, Mazda-Kia, and Toyota dealerships- they showed up and made us proud!
Towards the end of the evening, Don Weir passed the torch of the Dodge RAM partnership with the Rodeo over to the Dolan family! After years of friendship, history, and memories, the Dolan Family and Team were overcome with emotion by the honor and blessing that comes with representing our community at the beloved Reno Rodeo. Establishing this lasting partnership with the Reno Rodeo Association has been a joy, and we are just getting started! Cheers to many years to come at the Rodeo with fun, family, and a celebration of Reno's western roots!