The Annual Reno River Festival(RFF) presented by Dolan Auto Group is known to be the event that kicks off summer and all that our area has to offer during the warm and sunny months. The festival will be during Mother's Day weekend both May 11th and May 12th at Wingfield Park in Downtown Reno.

This event will not disappoint as it has activities for the entire family to enjoy including:
● Food vendors
● Live music
● Dancing
● Water sports
● Craft Beer and Wine vendors
● Adventure park and many others
How do you plan to kick off Reno River Fest 2019?
Have you ever taken a bike ride tour of Reno? If so, have you done that in a costume along with hundreds of other festival goers following a live band? It is the ONLY way to start this festival off! Join us for the Reno River Roll 2019--A seven mile bike ride around The Biggest Little City starting at the Reno Arch and finishing at Wingfield Park so you can continue the fun at the festival! For more information on the Reno River roll click here.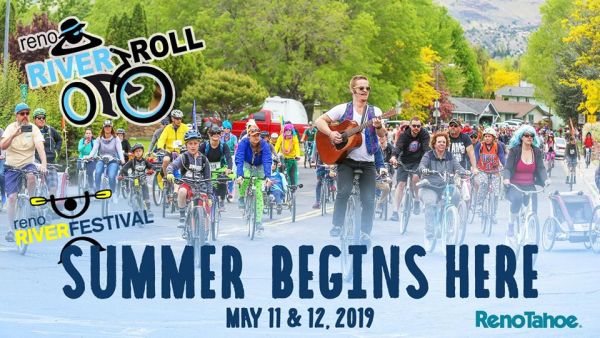 This free event also has opportunities for adults to experience a Craft Beer Village and/or a Summer Wine Village for a small fee while enjoying the beautiful summer weather and of course, the great live music. This year the Festival will be bigger than ever with a full-scale music festival with two stages featuring a total of 14 artists. For the full lineup click HERE!
Not to mention the pro kayaking in action! The Whitewater competition is one of Reno River Fest's most awaited events of the year with over 40,000 yearly visitors. The competition features six different divisions which festival goers can view as they enjoy the festival.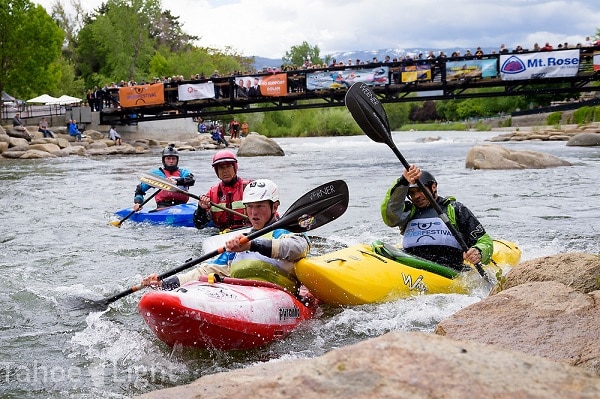 The Reno River Festival is our favorite way to kick off summer while experience Reno's gem, The Truckee River, in all of its glory. At RRF 2019 you will be encouraged to donate $1 to the One Truckee River Project to ensure the river keeps flowing clean and clear as the staple of our city.

For a full list of the activities visit the official Reno River Festival website.