Make sure to save the date, because one of our favorite events of the year is fast approaching.
The annual Concert on the Green will be held on July 29 at Montreux featuring live music and incredible views. The evening kicks off with an open picnic starting at 4:30 p.m. followed by the concert from 5:30-7:30.
Now in it's 18th year, the evening features the performance while you sit on the lawn at the stunning Patty Sheehan practice hole. Be sure to bring your picnic, blankets, and low back chairs to enjoy the picture-perfect setting.
This year's theme is "New Orleans, A Night in the Big Easy" featuring a charming performance by our local Reno Jazz Orchestra and won't disappoint you. We're looking forward to letting the good times roll as they play a night of musical Mardi Gras magic in what is sure to be the best outdoor party of the summer.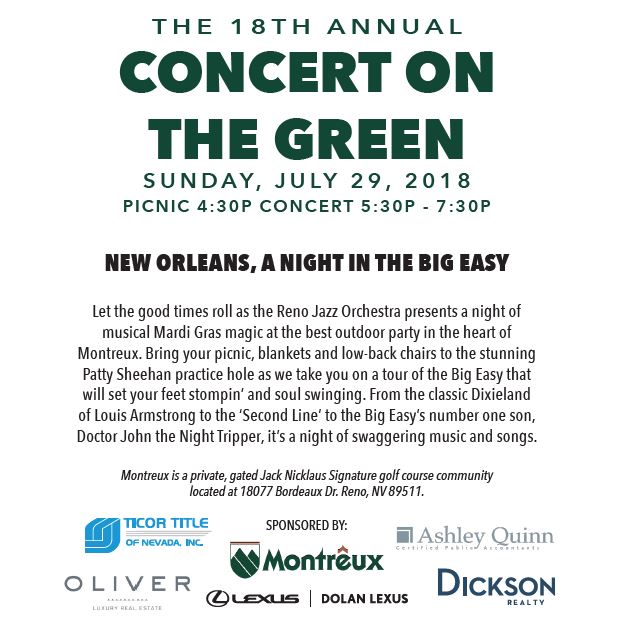 You won't want to miss this event if you're a Lexus owner either. All of us at Dolan Lexus will be on hand at Montreux serving complimentary wine to our owners at the free event.
Playing everything from the classic Dixieland of Louis Armstrong to Doctor John the Night Tripper, it's sure to be an unforgettable evening of swaggering music and song. Here at Dolan Lexus, we're thrilled to once again be a sponsor of the annual event as it returns to Montreux.
What: Concert on the Green
Date: Sunday, July 29
Where: Montreux Golf Club
Time: 4:30 - 7:30 p.m.
This musical tour of the Big Easy will have your feet stompin' and we're eager to enjoy what is sure to be soul-swinging jazz right alongside you!