A little smoke could not stop the fun at the 18th annual Concert on the Green at Montreux!
The Reno Jazz Orchestra did not fail to bring the energy as they had everyone swinging to their upbeat music. While the event started on the Dolan Lexus stage, it didn't stay there for long. After a short intermission, the band had us marching with them down the fairway while dancing.
It wouldn't be a true night in the Big Easy without Mardi Gras beads, so the crew at Montreux had plenty of beads on hand for everyone camped out on the green.
Team Dolan enjoys spoiling everyone at the event by providing a special treat, our Dolan Lexus branded wine tumblers. Of course, we wouldn't want to just hand out empty glasses so, throughout the evening we were pouring wine and beer as a special thank you to everyone that came out for this fun-filled gathering.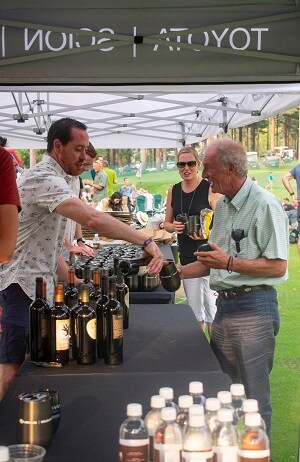 Most brought picnic baskets and beach chairs to enjoy the relaxing evening. For those that didn't bring their own food, Burger Me was serving their popular gourmet burgers at the concert.

Needless to say, all of us at Dolan Lexus loved bringing Concert on the Green to you as a sponsor of this popular annual event. It was amazing talking with everyone and enjoying a spectacular performance.

All of us at Team Dolan want to send a special thanks to everyone at the concert that stopped by to visit. And for those of you that weren't able to join us this year, we hope to see you at next year's concert!

Dolan Lexus is part of the Dolan Auto Group and looks forward to serving the community for years to come!